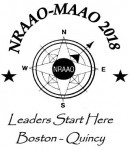 The Massachusetts Association of Assessing Officers (MAAO) and the Northeastern Association of Assessing Officers (NRAAO) would like to invite you to participate in the 2018 NRAAO Annual Conference.
When:            April 29 – May 2, 2018
Where:           Boston Marriott Quincy, 1000 Marriott Drive, Quincy, Massachusetts
Hotel Rates:  Group rate of $155 per night (rates are good from Saturday, April 28th until May 3rd)
Be sure to book your hotel room as the block will fill up fast.
Book your group rate online for NRAAO/MAAO Conference.  Last day to book at the discounted rate is April 9, 2018!