2018 IAAO Annual Conference Registration Now Open!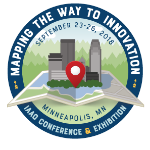 Registration for the 84th Annual International Conference on Assessment Administration, September 23–26, 2018 at the Minneapolis Convention Center, is now open!
More than 1,200 attendees are expected at the 2018 conference and attendees can register online or download the registration form.
CONFERENCE HOTELS
The educational sessions and Exhibit Hall will be located at the Minneapolis Convention Center, however the Opening Session, Plenaries, and Closing Banquet will take place at the Hilton Minneapolis. Hotel rooms are available at the Conference Hotels, the Hilton Minneapolis and the Millennium Minneapolis.
REGISTER EARLY!
Attendees are encouraged to register early to secure a hotel room as soon as possible. For more information about the annual conference, please see the conference section on the IAAO website